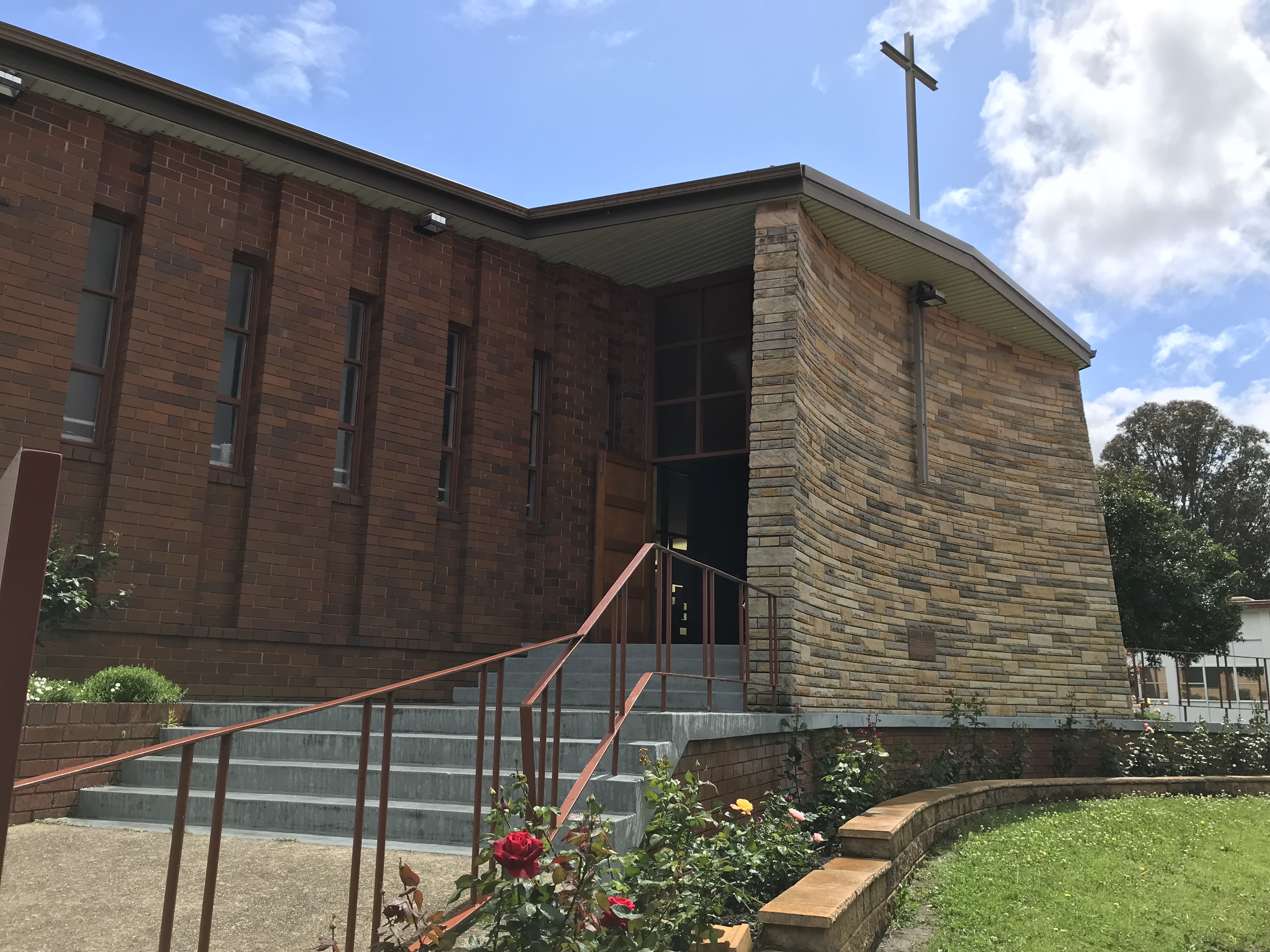 Churches are not being closed. Buildings are being closed. You are the church! You are to remain open! We are Live-streaming Mass online! Click the image below!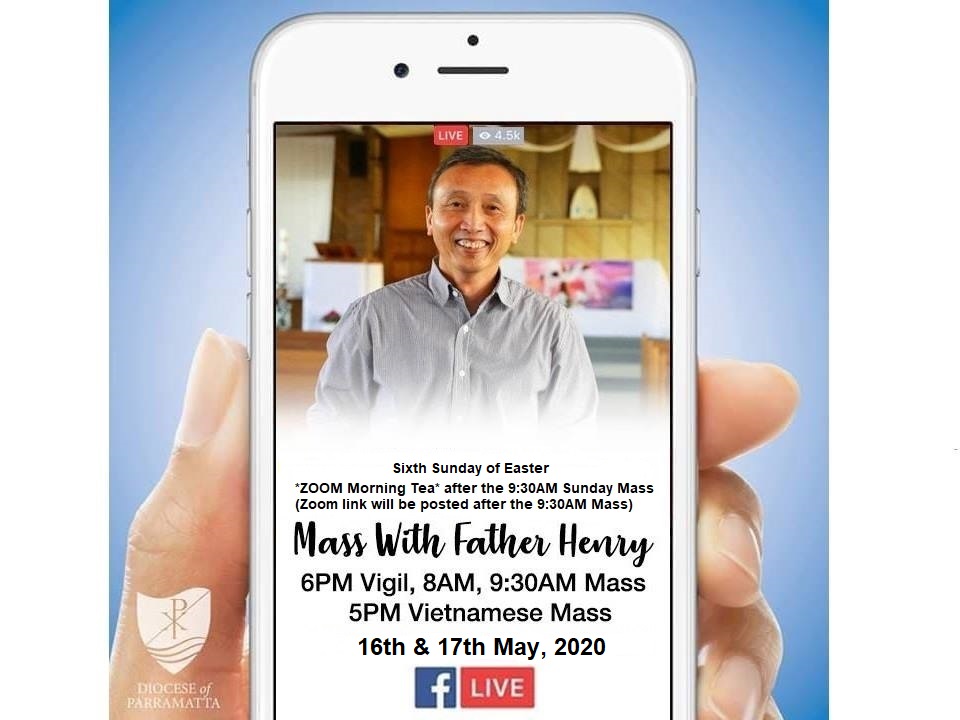 Prayer to Our Lady of Lourdes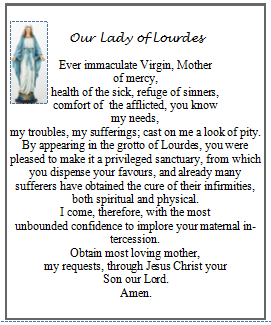 Pope Francis' Prayer to Mary during the coronavirus pandemic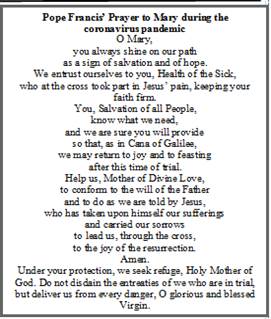 Welcome to OLOL Catholic Church Seven Hills website. We thank you for the fellowship we share in this church, for all it offers, all it means and all the ways it enriches our lives and enlarges our experience. We thank you for the unity we have discovered in Christ, and the love that binds us together. We thank you for the experiences we have shared over the years and the bond they have created between us. We thank you for the care we have been able to show and the care we have in turn received. We thank you for the opportunities we have had to discuss our faith and the way our understanding of you has grown as a result. We thank you for the way we can talk together openly and honestly and know that our friendship will not only continue but flourish. Loving God, We do not claim to be a perfect family, for we are all too conscious of our weaknesses as individuals and as a family. We praise you that you have called us here as one people, in fellowship with you and one another. Through Jesus Christ our Lord. Amen
Click on the link to see our latest Parish Bulletin:
All are welcome to join us for "Our Lady of Lourdes Catholic Community Seven Hills NSW" Facebook Live-stream Masses celebrated by Fr. Henry Huu Duc Tran on: Saturday Vigil 6PM, Sunday: 8AM & 9:30AM, 5PM (Vietnamese) AEST (UTC +10): https://www.facebook.com/OLOL7Hills/••
Masses will be live-streamed on the "Our Lady of Lourdes Catholic Community Seven Hills NSW" Facebook page. You do not necessarily need a Facebook account as it will be appear publicly.
*Zoom Morning Tea* every Sunday at 10:40AM after the 9:30AM Mass. Details at: https://www.facebook.com/OLOL7Hills/
A reminder for all ministry volunteers (Acolytes/Senior Ministers, Eucharistic Ministers, Readers, Altar Servers, Welcomers) to update their roster for the next 6 months (Jul 2020 - Jan 2021) by filling out your availability on this Roster form 2020-07 to 2021-01 and emailing it before June 5, 2020 to: Secretary@olol7hills.org.au
Planned Giving Program
On behalf of the Parish Community, I would like to thank you so much for your ongoing support, which has been very vital to keep our Parish going strong.
As there are no mass to give envelope collections, all members of our parish are invited to join a Direct Debit Program.
Please add a reference of "Donation".  Banking details are below:
DIRECT DEPOSIT:
BSB: 067 950;
Account Number 000552;
Account Name: Seven Hills Catholic Church.
Your generosity is greatly appreciated.
Upcoming events in the parish:
Lourdes Young Adults Group Night via Zoom
Fri 12/06/2020 6:45-9:30pm For more info contact Ian Epondulan: youtholol7h@gmail.com or at: https://www.facebook.com/OLOL7Hills/
Sacramental Program Meeting 
POSTPONED
Tai Chi - CANCELLED until further notice
Christ Community Prayer Group
Thursday  CANCELLED until further notice
Legion of Mary
Thursday Cancelled until further notice
3-Minute Retreats - Loyola Press
3-Minute Retreats invite you to take a short prayer break right at your computer. Spend some quiet time reflecting on a Scripture passage.
Knowing that not everyone prays at the same pace, you have control over the pace of the retreat. After each screen, a Continue button will appear. Click it when you are ready to move on. If you are new to online prayer, the basic timing of the screens will guide you through the experience
https://www.loyolapress.com/3-minute-retreats-daily-online-prayer
2nd Tuesday of the month 9am in the Parish meeting room