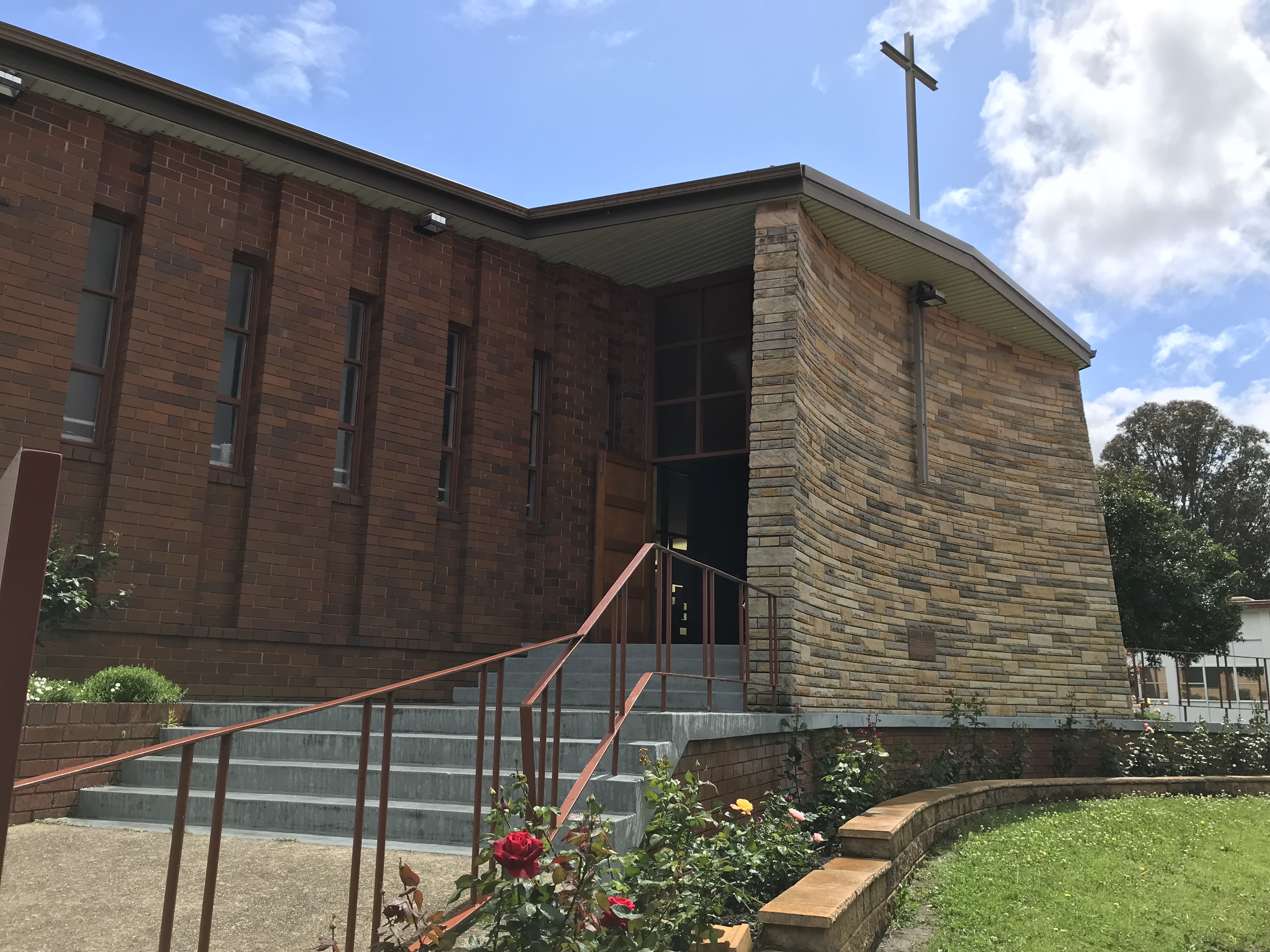 Please contact the Parish Office on +61 2 9622 2920 to confirm your attendance at a Weekend Mass. We are still Live-streaming Mass online! Click the image below!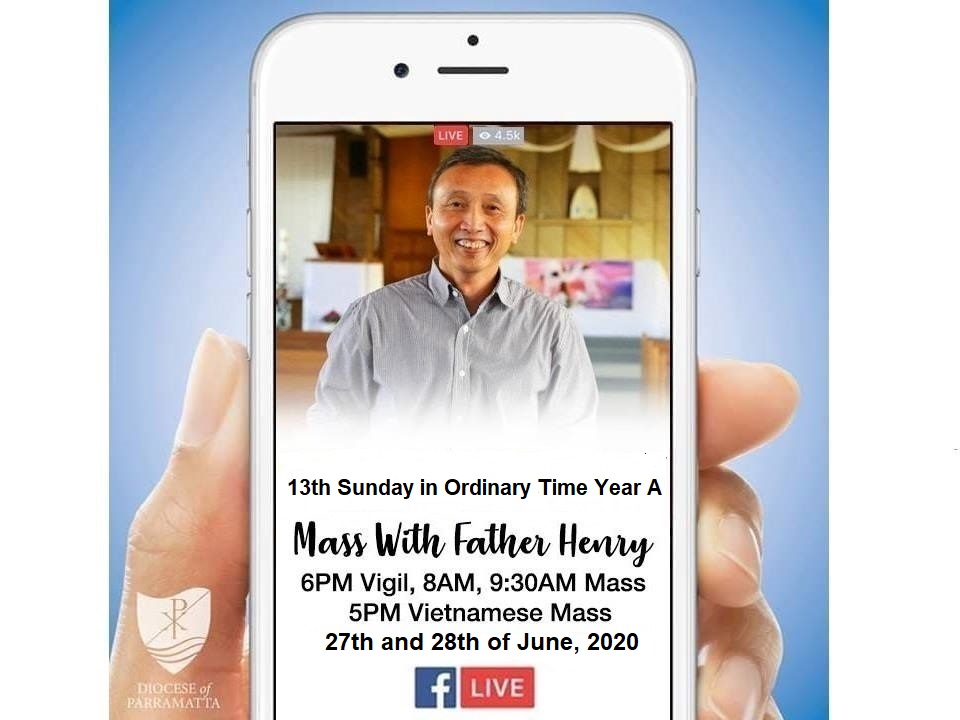 Prayer to Our Lady of Lourdes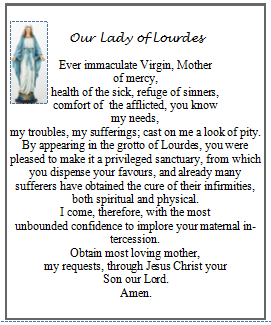 Pope Francis' Prayer to Mary during the coronavirus pandemic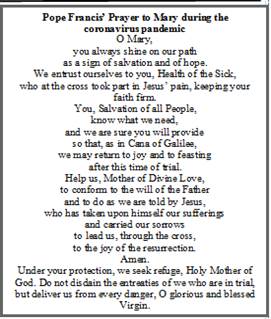 Planned Giving Program
On behalf of the Parish Community, I would like to thank you so much for your ongoing support, which has been very vital to keep our Parish going strong.
Please add a reference of "Donation".  Banking details are below:
DIRECT DEPOSIT:
BSB: 067 950;
Account Number 000552;
Account Name: Seven Hills Catholic Church.
IN-PERSON BANK DEPOSIT (at a Bank Institute/Branch)
Seven Hills Catholic Church
BSB: 062 315
Acc Id # – 00901486
AGENT # – 660
Your generosity is greatly appreciated.
PLANNED GIVING PROGRAM ENVELOPES
We are very grateful for your financial support to the Parish, as your regular and frequent contributions will assist this parish community to keep up with our ongoing maintenance projects.
New Set of Planned Giving Envelopes are now available for collection after Mass or can be collected from the Parish Office. Mon-Fri 9-3pm
If you are a new parishioner or an existing one and you would like to participate in the Planned Giving Program, please complete your details on the form supplied at the church side door  and return it to the Parish Office or email the completed form to secretary@olol7hills.com.au
Planned Giving ON-LINE BANK DONATIONS, please include your NAME and ENVELOPE NUMBER in the reference description.
Receipts for the PLANNED GIVING ONLY– if you need receipts, please email or call the Parish Office.
(Please note Planned Giving IS NOT TAX DEDUCTIBLE.)
Click on the link to see our latest Parish Bulletin:
MINISTRY ROSTER:
Weekend Masses at Our Lady Of Lourdes Parish, Seven Hills will be celebrated at 6pm Vigil (Saturday), 8AM, 9:30AM and 5PM (Vietnamese).
The number of attendees is arranged as follows:
✅100 people in the church attend the Mass directly.
✅100
people in the hall attend Mass online via live-stream
A total of 200 people.   

(First come, first serve, no booking necessary).
Eucharistic ministers will give the Blessed Sacrament to those in the hall at the reception of Holy Communion.
Seniors and those with flu symptoms, please continue to attend Mass online at home to protect yourself and the community.
Please arrive early to sign the ATTENDANCE BOOK
Church address: 7 Grantham Road Seven Hills, NSW 2147
Please note we will still be live-streaming on the "Our Lady of Lourdes Catholic Community Seven Hills NSW" Facebook Live-stream Masses celebrated by Fr. Henry Huu Duc Tran on: Saturday Vigil 6PM, Sunday: 8AM & 9:30AM, 5PM (Vietnamese) AEST (UTC +10): https://www.facebook.com/OLOL7Hills/•• Masses will be live-streamed on the "Our Lady of Lourdes Catholic Community Seven Hills NSW" Facebook page. You do not necessarily need a Facebook account as it will be appear publicly.
NOTE: 8am Weekday Mass, Tuesday to Friday, now allowing 100 people to attend will be in the Church (First come, first serve, no booking necessary). We will be live-streaming on Wednesday nights at 7pm the Devotion to Our Lady of Lourdes and St Bernadette Soubirous followed by Mass at 7:30pm with Fr. Andrew Robinson, St Bernadette's Parish, Gardenia Grove, Lalor Park (First come, first serve, no booking necessary).
We are expected, by Law, to keep a record of Mass Attendance, please sign Attendance book upon arrival.
Upcoming events in the parish:
Lourdes Over 50's in the OLOL Hall
Thu 09/07/2020 10:30am-1pm Lourdes Over 50's meeting will be held in the Parish Hall on Thursday 9th July from 10.30 am to 1.00 pm. Covid-19 restrictions apply. Please bring your own packed lunch to comply with current restrictions.
Lourdes Young Adults Group Night in the OLOL Hall
Fri 10/07/2020 6:45-9:30pm For more info contact Ian Epondulan: youtholol7h@gmail.com or at: https://www.facebook.com/OLOL7Hills/
Blacktown Network of Faith Communities Meeting via Zoom
Mon 20/07/2020 7:30-9pm For more info contact Ryan Epondulan: ryan.epondulan@columban.org.au or at: https://www.facebook.com/OLOL7Hills/
Sydney Alliance - Voices for Power North West Caucus (Social Justice/Interfaith Dialogue) Meeting via Zoom
Tue 21/07/2020 6-7:30pm For more info contact Ian Epondulan: youtholol7h@gmail.com or at: https://www.facebook.com/OLOL7Hills/
Christ Community Prayer Group
Thursday 's 9am in the Parish Meeting Room - (Please follow all Covid-19 Government restrictions)
Legion of Mary
Thursday's 1pm in the Parish Meeting Room - (Please follow all Covid-19 Government restrictions)
Sacramental Program Meeting 
Will be resuming soon....keep an eye on website for further details
Tai Chi - CANCELLED until further notice
3-Minute Retreats - Loyola Press
3-Minute Retreats invite you to take a short prayer break right at your computer. Spend some quiet time reflecting on a Scripture passage.
Knowing that not everyone prays at the same pace, you have control over the pace of the retreat. After each screen, a Continue button will appear. Click it when you are ready to move on. If you are new to online prayer, the basic timing of the screens will guide you through the experience
https://www.loyolapress.com/3-minute-retreats-daily-online-prayer
2nd Tuesday of the month 9am in the Parish meeting room
Welcome to OLOL Catholic Church Seven Hills website. We thank you for the fellowship we share in this church, for all it offers, all it means and all the ways it enriches our lives and enlarges our experience. We thank you for the unity we have discovered in Christ, and the love that binds us together. We thank you for the experiences we have shared over the years and the bond they have created between us. We thank you for the care we have been able to show and the care we have in turn received. We thank you for the opportunities we have had to discuss our faith and the way our understanding of you has grown as a result. We thank you for the way we can talk together openly and honestly and know that our friendship will not only continue but flourish. Loving God, We do not claim to be a perfect family, for we are all too conscious of our weaknesses as individuals and as a family. We praise you that you have called us here as one people, in fellowship with you and one another. Through Jesus Christ our Lord. Amen