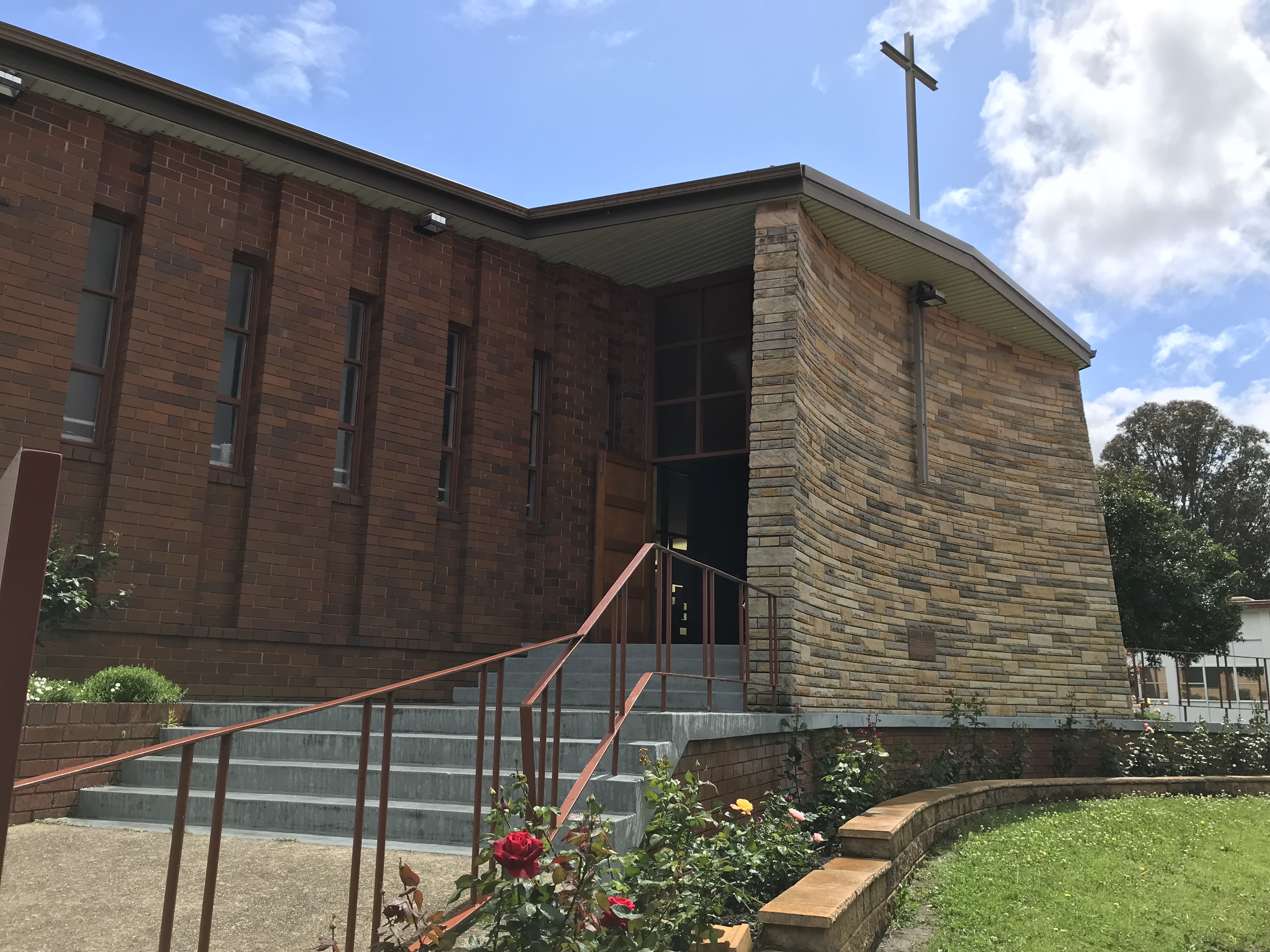 We are still Live-streaming Mass online! Click the image below!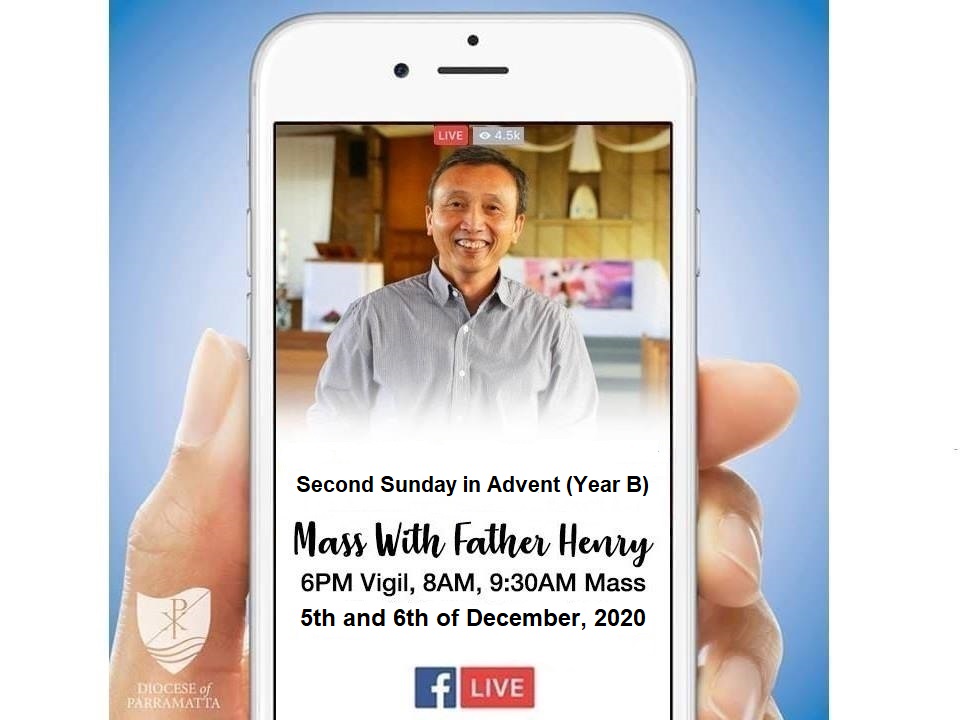 Prayer to Our Lady of Lourdes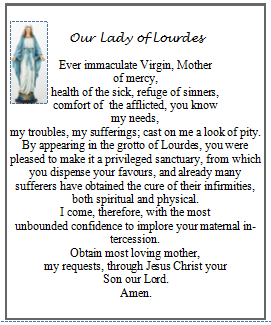 Pope Francis' Prayer to Mary during the coronavirus pandemic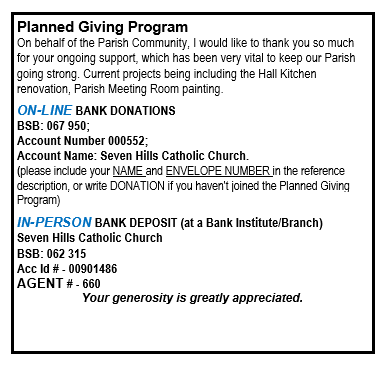 Welcome to OLOL Catholic Church Seven Hills website. We thank you for the fellowship we share in this church, for all it offers, all it means and all the ways it enriches our lives and enlarges our experience. We thank you for the unity we have discovered in Christ, and the love that binds us together. We thank you for the experiences we have shared over the years and the bond they have created between us. We thank you for the care we have been able to show and the care we have in turn received. We thank you for the opportunities we have had to discuss our faith and the way our understanding of you has grown as a result. We thank you for the way we can talk together openly and honestly and know that our friendship will not only continue but flourish. Loving God, We do not claim to be a perfect family, for we are all too conscious of our weaknesses as individuals and as a family. We praise you that you have called us here as one people, in fellowship with you and one another. Through Jesus Christ our Lord. Amen
WELCOME  TO   OUR LADY OF LOURDES   SEVEN HILLS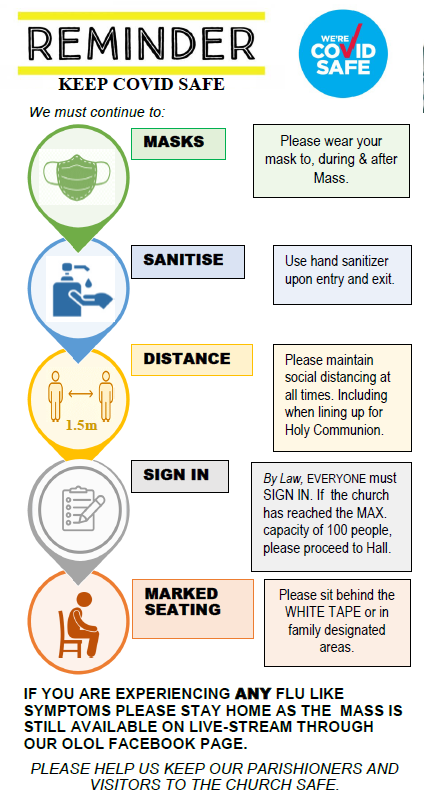 Click on the link to see our latest Parish Bulletin:
MINISTERS - NEW ROSTER- due this week
Forms are now available for ministers to renew their information for the next rostering period January - June 2021.
You can either complete the form on-line, using the Link below, or pick one up from the back of the church and once filled out leave it in the box at the back of the church,  or use the online portal of the program to update your information.
If you are not currently registered with the rostering program and would like to, please complete a form at the back of the church and print your email address clearly.  You will receive an email outlining how to use the online rostering program.
All updates must be received by 27th November, so the roster can be completed and published by Christmas.
Sacramental Program 2021

Weekend Masses at Our Lady Of Lourdes Parish, Seven Hills will be celebrated at 6pm Vigil (Saturday), 8AM and 9:30AM.
Church address: 7 Grantham Road Seven Hills, NSW 2147
Please arrive early at least 15-20mins prior to start of Mass to sign the ATTENDANCE BOOK
WEEKEND MASSES INFORMATION
It's a wonderful news for us to welcome a further relaxation of church-gathering restrictions, given we continue to comply with safety conditions required by the government, such as following:
For all our Masses at Our Lady of Lourdes, Seven Hills from this weekend, no one needs to ring the Parish Office anymore, please just go to Mass as usual. It, however, would be worth to note that our church capacity at the moment is 100 to meet with physical distancing requirement. Therefore, when our church is full of its current capacity of 100 seats, I hope you don't mind to go to our Church Hall, where Mass is live-streamed to, and I shall personally bring Communion over to you at Communion time.
Praise the Lord for all this good news we have received, and continue to show each other our kindness, patience and understanding, as we keep helping each other to get through this unbelievable time of history.
Thank you so much for your co-operation and patience.
Fr Henry
Please note we will still be live-streaming on the "Our Lady of Lourdes Catholic Community Seven Hills NSW" Facebook Live-stream Masses celebrated by Fr. Henry Huu Duc Tran on: Saturday Vigil 6PM, Sunday: 8AM & 9:30AM AEST (UTC +10): https://www.facebook.com/OLOL7Hills/•• Masses will be live-streamed on the "Our Lady of Lourdes Catholic Community Seven Hills NSW" Facebook page. You do not necessarily need a Facebook account as it will be appear publicly.
NOTE: 8am Weekday Mass, Tuesday to Friday, now allowing 100 people to attend will be in the Church (First come, first serve, no booking necessary). We will be live-streaming on Wednesday nights at 7pm the Devotion to Our Lady of Lourdes and St Bernadette Soubirous followed by Mass at 7:30pm with Fr. Andrew Robinson, St Bernadette's Parish, Gardenia Grove, Lalor Park (First come, first serve, no booking necessary).
We are expected, by Law, to keep a record of Mass Attendance, please sign Attendance book upon arrival.
Upcoming events in the parish:
Lourdes Young Adults Group - Saturday 12th of December, 2020 7-9:30pm in the Parish Hall
For more info contact Ian Epondulan: youtholol7h@gmail.com or at: https://www.facebook.com/OLOL7Hills/
Seven Hills Social Justice Group with Grantham Heights Uniting Church via Zoom
For more info contact Terry Jordan: socialjustice@olol7hills.com.au or at: https://www.facebook.com/OLOL7Hills/
Blacktown Network of Faith Communities Meeting via Zoom
For more info contact Ryan Epondulan: ryan.epondulan@columban.org.au or at: https://www.facebook.com/OLOL7Hills/
Sydney Alliance - Voices for Power North West Caucus (Social Justice/Interfaith Dialogue) Meeting - Tuesday, 15th of December 2020, 6-7:30pm at International Peace Park, Terminus Rd Seven Hills
For more info contact Ian Epondulan: youtholol7h@gmail.com or at: https://www.facebook.com/OLOL7Hills/
Lourdes Over 50's in the OLOL Hall
will resume February 2021
Christ Community Prayer Group
Thursday 's 9am in the Parish Meeting Room - (Please follow all Covid-19 Government restrictions)
Legion of Mary
Thursday's 1pm in the Parish Meeting Room - (Please follow all Covid-19 Government restrictions)