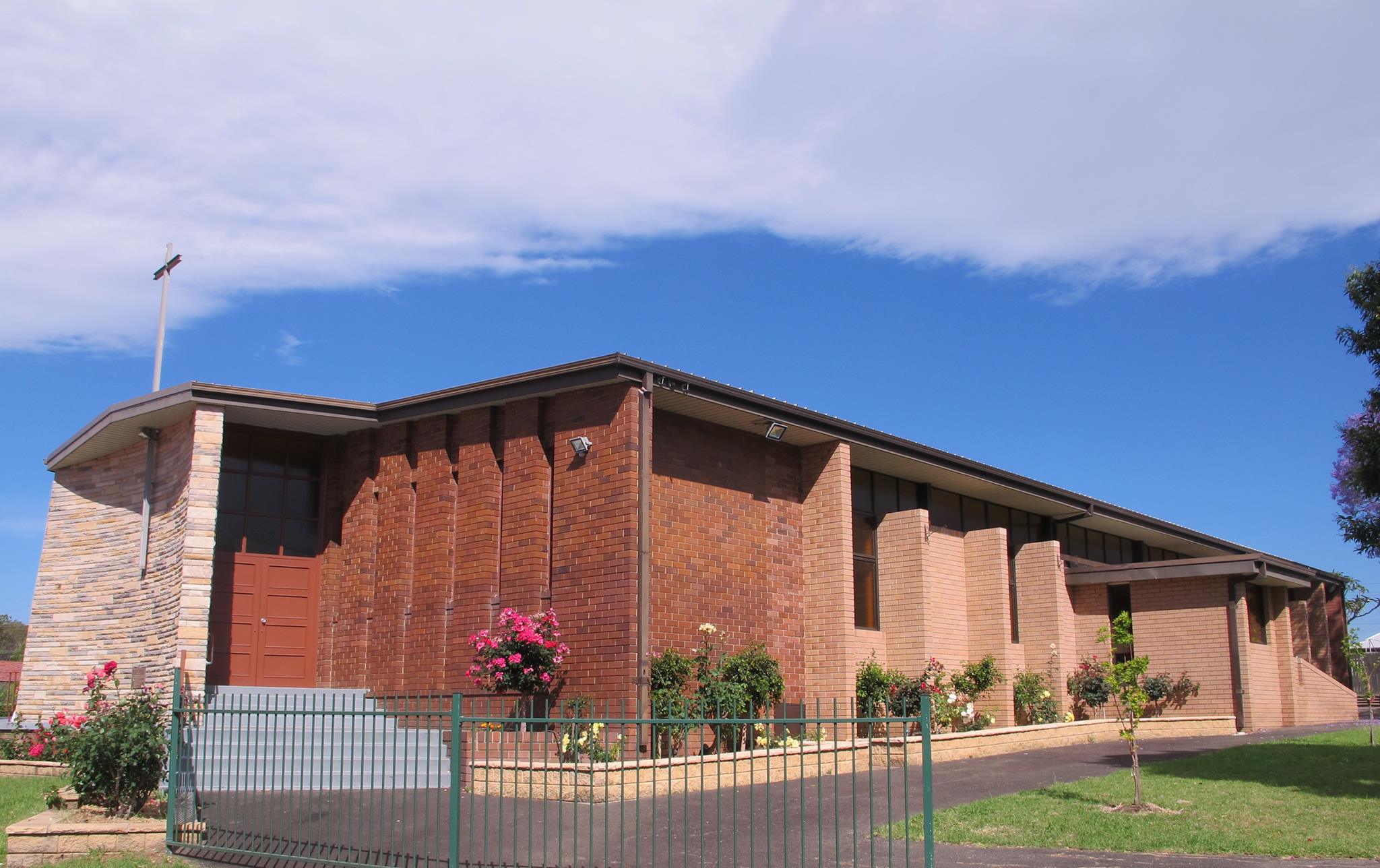 A SHORT HISTORY OF OUR LADY OF LOURDES
On Christmas Day in 1951 and 1952, Rev Bernard Massey from Blacktown celebrated Mass in the Memorial Hall, Seven Hills. By June 1953, numbers had increased to such an extent that he was obliged to establish the Memorial Hall as a regular Mass Centre. Rev Hugh Law was appointed Priest-in-Charge at Blacktown, following Rev Massey's death in 1957. To cope with the development of Seven Hills and Lalor Park, he formed a Seven Hills Parish Committee, which welcomed Rev Bill O'Connor as Parish Priest of Seven Hills on 12 February, 1959. The previous day had been the Feast of Our Lady of Lourdes, the name bestowed on the new parish.
1960 was a memorable year for the parish. In February a church-school, St Bernadette's at Lalor Park was opened. A temporary presbytery was purchased at 10 Federal Road, Seven Hills and in December, Rev Murphy was appointed Assistant Priest. In February 1961, after only two years, Seven Hills Parish was split in two, Lalor Park and Seven Hills. A new presbytery was purchased for Seven Hills in September 1964 to replace the temporary house in Federal Road.
Our Lady of Lourdes Church was blessed and opened on 11 February 1962 and the first three classrooms of our school were completed in 1962 for classes to begin in January 1963. The glass and timber walls of the church were replaced by brick walls in the early 1980s. When Rev Bill O'Connor retired on 1 April 1991 he had served as Parish Priest for 32 years.
In 1991 a Parish Centre was provided by converting the house at 4 Olive Street, into offices and meeting rooms. The Parish Centre was moved to its present position in 1996. Rev Edward Sequeira served as the second Parish Priest from June 1991 to June 2000. Rev John Boyle was appointed as Parish Priest in July 2000. Rev Henry Huu Duc Tran was appointed Parish Priest on 5 October 2006 and installed on 11 March 2007.
Early in January 2009, the very old and deteriorated roof of the Church was taken off and replaced with a modern insulated roof.
Easter 2009 marked a significant step in the Parish in its cyber-mission as the Parish Website was officially launched to help people to keep in touch with the Parish via the Internet.
By October 2010, a major school building project, part of the Diocese "Project Genesis" fruit of the Australian Government's stimulus package, provided the school with a brand new library and refurbished and reconfigured learning spaces suitable for 21st Century learning. The Parish now has a new Parish Meeting Room formerly used as a Kindergarten classroom.
What a wonderful and exciting year 2012 was for us when we celebrated our Golden Jubilee which included Our Parish Dinner/Dance, Youth Talent Quests, and finally our Thanksgiving Mass and International Luncheon. It was a marvellous year full of many blessings and joy. We hope you will continue to enjoy Our Lady of Lourdes as we strive to share in the next 50 years.
In September 2013, a new set of glass door was installed at the rear of the church to allow the church-foyer to remain open after the weekday Mass. The church has now become more accessible to all, who would like to drop in for a prayer at any time throughout the day.
There has been many more upgrades over the years and in 2019/2020 with the installation of six television monitors in the church, new projector, refurbished kitchen in the hall, repainting of the roof of the church, parish meeting room and parish office and re-fixing the cracks of the ceiling in the church.
Vision and Mission of Our Lady of Lourdes Seven Hills.
Our Vision
We are a welcoming and caring community. Guided and moved Our Mother, Our Lady of Lourdes, we endeavour to fulfill our Baptismal promises to love and serve God and to affirm each other through the witness of our lives.
Our Mission
We celebrate our faith meaningfully through full participation in the Eucharist, the Word of God and the Sacraments. We make Jesus Christ visible in our community through word and action. We foster prayer, worship and fraternity within our community and with other Christian communities as well as Interfaith Dialogue. We promote Spiritual Formation and Catholic Education in keeping with Gospel values and traditions. We accept responsibility of ownership of our parish structures and activities. We use our cultural diversity to enrich our community. We form support and care groups to serve the community.